<
Porcelain bridges
There are various reasons why a patient can present with a missing tooth.
– Dental infections
– Trauma
– Gum disease
– Genetically absent
Dental bridges are a fast fixed option to replace such missing teeth. Adjacent teeth are prepared , in a similar way we would prepare for a crown and a bridge is then manufactured by our ceramist to literally bridge the gap.
The procedure typically requires two visits, 7 – 14 days apart.
The above case shows a metal ceramic bridge replacing the missing front teeth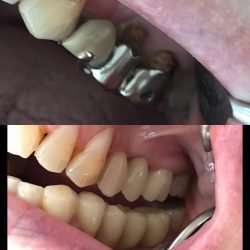 The above case shows the replacement of an old metal bridge into a full ceramic bridge